Making friends in Pokemon GO is easy, but understanding the intricate damage bonuses and trading discounts that come from levelling Friendship relationships is not. Luckily, we have prepared a few table to help you make sense of Pokemon GO Friendship level bonuses.
Tables included in this post:
Friendship level damage bonus and extra balls
Trade discounts per friendship level
Overview of all trading costs (Dust / Pokémon type / Friendship level)
Friendship level bonuses info graphic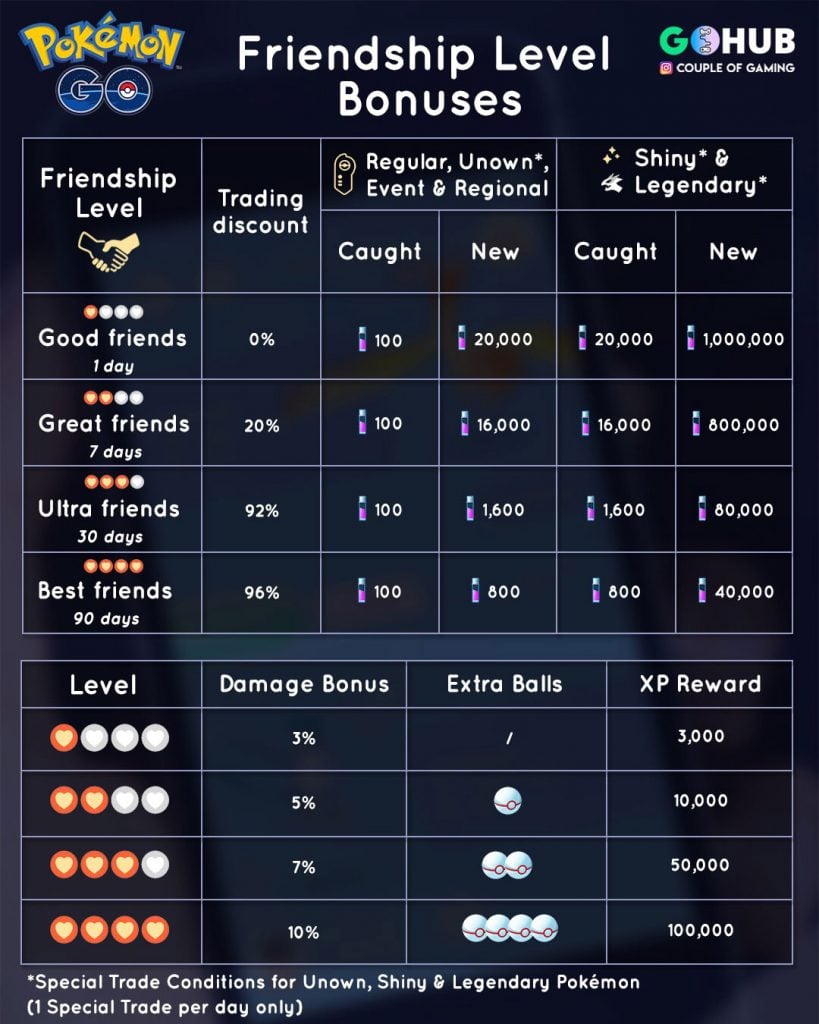 Friendship level damage bonus and extra Premier balls
You get the damage bonus and extra Premier balls if you're raiding with a friend. Only one bonus can be active, they do not stack and the game will use the highest one available. You earn XP reward only once when the level is unlocked.
Level
Damage bonus
Extra balls
XP reward
Good friends
1 day
3%
0
3000
Great friends
7 days
5%
1
10,000
Ultra friends
30 days
7%
2
50,000
Best friends
90 days
10%
4
100,000
Friendship level Stardust cost discount
In addition to damage bonuses, each Friendship level reduces the amount of Stardust that is required to complete a trade. Although it starts slowly, it quickly ramps up and makes Normal trades almost free.
Each Pokemon GO friendship level unlocks a discount percentage that is then applied on all trades with that Trainer:
Level
Trading discount
Good friends
1 day
0%
Great friends
7 days
20%
Ultra friends
30 days
92%
Best friends
90 days
96%
Discounts for Ultra and Best friends are massive, they make regular trades essentially free and they make Special Trades feasible. Special trades include Shiny and Legendary Pokemon.
The following tables shows all Pokemon GO trading costs with respect to the type of Pokemon you're trading, Pokedex status and friendship level:
Level
Regular and regional
Shiny and Legendary
Caught
New
Caught
New
Good friends
1 day
100
20,000
20,000
1,000,000
Great friends
7 days
80
16,000
16,000
800,000
Ultra friends
30 days
8
1,600
1,600
80,000
Best friends
90 days
4
800
800
40,000
As it stands now, the penalty for trading a Pokémon that you don't already have in your Pokédex (ie. regionals) is 200x the regular trading price. That's quite steep, but it's still not too bad if you're just trading Regionals (20k dust).
Tips and Tricks
Don't slack until you reach Ultra Friend status with the people you play with. A month from now, paying 8 Stardust for a trade will become expected for everyone who was invested in the system. Try not to fall behind.
Remember that you can increase your Friendship level only once per day, which means that once per day you have to remember to gift or to do a raid. It's super easy to stay up to date, so make sure to do this every day.
If you ask us, paying more than 1,600 Stardust for a trade is not viable for local groups. 16,000 or 20,000 Stardust can be better spent elsewhere, especially with the re-rolling nature of Trade Pokemon IVs.
The post Friendship Level Bonuses in Pokémon GO appeared first on Pokemon GO Hub.